BRYANT GROUP MOTORSPORTS ACADEMY
ASPIRATION. INSPIRATION. EDUCATION. EMPOWERMENT.
The Mechanic
Training to become a race car mechanic starts in high school and is bolstered by a love for technology, mathematics, and science. A high-performance engine mechanic knows their way around a car, tools, and possesses a cool combination of both brains and brawn. Teamwork is essential, and strong communication skills are critical to success. A mechanic has to be able to explain complex ideas and solutions and communicate the rationale for problem-solving.

In the early days of racing, every team member was a general mechanic, but in this era of specialization, most teams employ a small number of mechanics that the crew chief can call on for a variety of fixes and adjustments.

Race car mechanics remain cool under pressure. When a car breaks down in the middle of a race, the mechanic has to figure out the problem and get it repaired as quickly as possible. Race car mechanics are also responsible for maintaining, improving, and setting up the cars for
a race or track day.

Getting a job as a race car mechanic is a competitive endeavor. Obtaining ASE certification from the National Institute for Automotive Service Excellence is a highly sought after credential for all professional mechanics.
The Role of a Mechanic:

An integral part of the team.
In charge of assembly, building, tear down.
Perform vehicle "set up" at the track.
Making adjustments based on engineering recommendation.
A mechanic's contributions can determine whether the team wins or loses.
Attributes of Successful Mechanics:
Must be good with their hands

They are responsible for every nut and bolt

Organized

Disciplined

Dedicated – has a passion for the work and dedicated to both the team and the job

Innovative – come up with unique solutions to difficult problems

Passion for Automobiles

Passion for Problem Solving

Perfectionists

Team Player – works well with others

Calm, Cool, and Collected. Sometimes the cars they work on are worth millions of dollars.
Case Study
Charlie Wiggins

One of the most famous African American mechanics, a "pioneer" in his community who both raced and wrenched in the early 1900's.
Charlie was sought after by many drivers racing in the Indy 500, and was the first black mechanic in Evansville, Indiana.
Born in 1897, he grew up to a poor working-class family. Wiggins first held a job at a shoe shine stand near an automotive shop in his town of Evansville, IN. Eventually, he was hired to work as an apprentice in 1917, as many of the workers at that garage left to join the Army. Wiggins became the first African American mechanic in that town, and then quickly worked his way up to become the chief mechanic of his auto shop.
Wiggins and his wife moved to Indianapolis, Indiana in 1922 – home to one of the largest and most famous auto races, the Indianapolis 500. Shortly after moving to the area, Wiggins opened up his own mechanic repair shop, and quickly became the most sought after mechanic in the city.
While running his own repair shop, Wiggins was building race cars in his own time, using spare parts from junkyards to create his own special car, the "Wiggins Special". He tried to enter the Indianapolis 500, but due to racial issue in the area, was unable to participate.
Because of this, he decided to form his own racing league for other African American racers, where they held their own club races across the Midwest, and became tremendously successful, winning many races. The popularity of this series drew many drivers and spectators alike, drawing a crowd of tens of thousands for their big race at the Indiana State Fairgrounds – the Gold and Glory Sweepstakes.
This success in club racing garnered the attention of many Indianapolis 500 competitors, who saw him for his exceptional talent and skill, regardless of race, and became a highly respected mechanic in the Indianapolis 500 paddock.
Education Path:

1-2 year certification degrees at local Technical Colleges / Vocational programs & "Trade School" programs
Job Paths:
Skilled labor programs and automotive technology programs can lead to many various careers in the automotive and motorsports industry

ASE Certified Mechanic

Automotive Production (Assembly, Welding, Etc.)

Factory Maintenance Personnel
Career Opportunity Highlight: Michelin Tech Scholars Program (Factory Maintenance Personnel)
For students at a technical school enrolled in a Mechatronics, Mechanical Engineering or Engineering technical certification / program

On-the-job training from Michelin, who will assist with tuition, books and fees as well as pay you for part-time work during the program

Upon successful completion of the program, you are eligible for entry-level employment at Michelin with a salary of approximately $50,000 or more

After 2 years, ability to continue your education and career path with Michelin to become an Engineer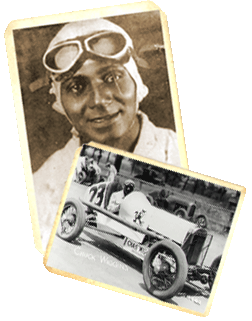 Case Study
Ashley Parlett

Women are gaining recognition as mechanics in motorsports, and one of the greatest is
Ashley Parlett who has been a
NASCAR assembly mechanic for 13 years.

Parlett works at Chip Ganassi Racing as a mechanic working full-time on Jamie McMurray's Sprint Cup Chevrolet as well as all of Ganassi's famous sports cars.

She has been working on race cars since she was 13 years old, and she raced open-wheel sprint cars which prepared her for a NASCAR career.

Before joining Ganassi, Parlett worked on the NASCAR K&N team as a mechanic.
Her dream is to become a Crew Chief in
one of NASCAR's national series.